February 28, 2020 • Real People Casting
Casting Creative High School Seniors/Juniors Who Want The Chance to Work With Teen Vogue on Creating a Promposal Video (NY Tri-State)
Vitamin Enriched, a real people casting company is casting in the NY tri-state area for female identifying teens who are creative and want the chance to create an amazing "promposal". We are specifically looking for high school seniors/juniors (17-18 years old) who want to use their creative talents to make an amazing  "promposal" video with the team of professionals at Teen Vogue. Maybe your hobby is comedy, painting, sculpting clay, scrapbooking, slam poetry, playing musical instruments, DJing, crafting, capoeira, dancing, singing, boxing, wrestling, graffiti, etc. Whatever your talent, tell us about it!
Must be a high school junior/senior planning on going to prom.
Audition interview dates: Wednesday, March 4th. and March 11th.
Shoot dates: April 6th – 8th (you will be needed for 1 1/2 days)
Shoot details: Shoots in NYC for 1 1/2 days (Promposal shoot and roundtable discussion)
Payment: If selected, $1,500 total ($1,000 promposal shoot $500 roundtable discussion – includes usage)
Usage: Video assets will be distributed for ONE YEAR via the following: Teen Vogue and client owned and operated channels (including Facebook and Instagram.) Teen Vogue and client YouTube Unlisted. Custom branded content article on

TeenVogue.com.

You must be a US citizen and eligible to work in the United States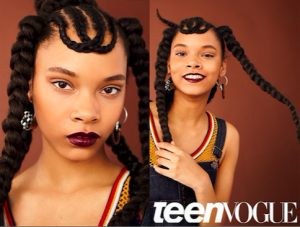 Please email us the following details to info@vitaminenrichedfilms.com
IN ORDER TO QUALIFY YOUR PARENT OR GUARDIAN MUST GIVE YOU PERMISSION AND WE WILL NEED THEIR CONTACT DETAILS TO VERIFY:
Thank you so much!
-Kathy, Joe, Mary Anne & Evadne
Photo provided by Teen Vogue / Conde Nast
*You must be a US citizen and eligible to work in the United States*