March 29, 2019 • Real People Casting
Casting deaf or hard of hearing students (15 – 22 yr olds) with their friends and/or siblings for an online video
Vitamin Enriched, a real people casting company, is looking for deaf or hard of hearing student (15-22 years old) AND their friends and/or siblings for an exciting online video! We are looking for the student, and a small group of friends or siblings, to try a new feature for a technology brand's product. Everyone in the group must be regular or daily smartphone/device users. (Friends and/or siblings can also be deaf or hard of hearing, but do not have to be. They should also be in the 15-22 age range.)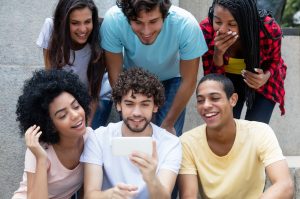 Must live in the NY Tri-State area.
Non-Union
Casting interview dates: Will be scheduled between Fri. Apr 5th – Mon. 8th
Shoot:  One day between Apr. 9th – 12th
Shoot location: This will be a documentary style shoot where you would be filmed in your home or school with your group trying the new feature.
Payment: If selected, each person in the group would be paid $750.00 for the shoot day, with the potential to make additional compensation!
Usage: If you are in the final cut of the video, you would be paid an additional $750 buyout for 1 year of usage on the internet and industrial. 
Please email the following ASAP to: info@vitaminenrichedfilms.com
Please answer all questions /items below:
Child Name
Child Age (must have parental consent if under the age of 18)
Parent Name
Parent Phone Number and Email
City & State
Please tell us a little about yourself (School, Family)
Are you deaf or hard of hearing? Do you use anything to aid your hearing? If so, tell us about it.
Do you currently use a cell phone or a tablet? Tell us about how you use it.
Which friends or siblings would be a part of this interview with you? (Name, ages, are any of them deaf or hard of hearing)
Do you have someone who can interpret during the casting interview?
Please send us a couple of pictures of you along with your friends or siblings.
Are you an actor/model? Have you ever appeared in an ad, a film or on TV before? (If so, tell us about it)
Please let us know if you have any questions.
Thank you so much!
Kathy, Joe, Mary Anne & Evadne
Vitamin Enriched
347 454 9597