January 28, 2019 • Real People Casting
Casting Girls ages 10-12 who are in STEM programs and want to be an interviewer!
Vitamin Enriched, a real people casting company, is looking for girls in the NYC area, ages 10-12, who are in STEM programs and would like to interview women working in STEM! We are working with the Ad Council on an exciting campaign called #SheCanSTEM where girls will discuss careers in STEM with professionals. 
We are looking for girls (10-12) in the NYC area. Whether you are enrolled in a STEM program at school or take and after school STEM program or maybe you go to STEM camps in the Summer. If you're really into STEM, we want to talk to you!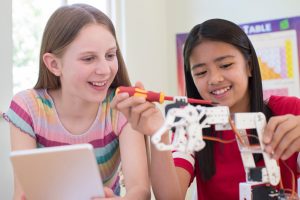 Must live in the NYC area
Non-Union
Casting audition: in person, in NYC on Feb 5th  – after school hours
Shoot: One day between Feb. 13th-16th
Shoot location: NYC
Payment: If selected, you are paid $500.00 (+20% agents fee) for your shoot day and usage (digital and social usage for at least two years (no broadcast).
Please email the following ASAP to: info@vitaminenrichedfilms.com
Please answer all questions /items below:
Child Name
Child Age
City & State
Parent Name
Parent Phone Number and Email
Please send us a couple of pictures of yourself (if you have any photos related to STEM, please include those)
Tell us about the STEM Program / School / Camp you are in.
How long have you been into STEM / taking STEM?
What do you like most about STEM? Tell us about what you are working on right now in your STEM program / classes.
Do you think you want to do something related to STEM when you grow up? If so, what?
What question would like to ask women who work in STEM? 
Do you have any acting experience? Have you spoken in front of your class? (You do not have to have this experience) 
Thank you so much!
Kathy, Joe, Mary Anne & Evadne
Vitamin Enriched
347 454 9597