October 18, 2019 • Real People Casting
Casting NYC Buskers for a NY Yankees TV Commercial
Vitamin Enriched, a real people casting company, is looking for a bunch of New York locals to represent our great city in a TV commercial about the NY Yankees. We are looking for the amazing Buskers who play on NYC streets.  Ideally we'd love it if  you can throw and catch a baseball.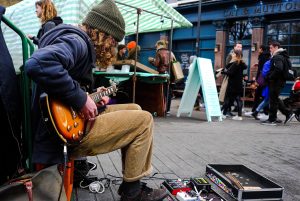 Dates and payment details:
Casting: Auditions in person in NYC Oct. 19th
Shoot either Oct 20th or Oct 21st
Shoot location: NYC
Payment: You are paid SAG scale rate which pays over $600 per day.
Usage/Run:National, Network, Spot Market, Internet, Dealer, Foreign, Cable, Theatrical/Industrial, Behind the Scenes footage, New Media, Stills
Conflict:  Athletic Apparel
To Submit yourself for consideration, please email the following ASAP to: assistant@vitaminenrichedfilms.com
Please send a couple of photographs of yourself
Please tell us what you play and a little about your style.
How long have you been doing this or where do you play?
Please send us links to any social media or links to video of your playing.
How comfortable are you throwing or catching a baseball?
Thank you! -Kathy, Joe, Mary Anne, Janelle, Evadne, Javier & Nicole
Photo by Seb Barsoumian on Unsplash