October 18, 2021 • Real People Casting
Casting Runners Groups and Runners Who Have Inspiring Stories and Are Making an Impact
Vitamin Enriched, a real people casting company, is searching nationwide for inspiring stories of runners or running groups for an athletic brand commercial . The commercial will feature stories where running has changed lives in a meaningful, and impactful way on either a personal or community level.  Maybe running has helped you with your sobriety; Maybe running has helped you heal; Maybe running with a group has helped your feel safer; Maybe you use running to help others. Whatever your story is, we want to hear how running is making an impact on your life or community.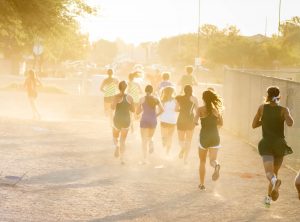 Details about the commercial: 
Non-union
Usage: – All media for two years
If selected, the featured person would be paid $1,000 per day (Likely a two day shoot).
Shoot Details/Dates for the commercial: 
If you are interested in being considered, Please email all of the following information ASAP to info@vitaminenrichedfilms.com:
Name:
Phone number:
Email:
City & State:
Age:
Social handles (IG, Facebook)
Send us two to four recent photographs of yourself (and your group, if you're submitting with a group).
Please tell us a little about yourself.
Tell us why you run, and what inspires you to run?
How has running changed your life? Has running impacted your community at all?
If you run with a group: Which group? Why do you run with a group? Why do you run with this particular group?
Do you or your group run for any purpose outside of running? If so, tell us about that.
Are you or your running group involved in any community efforts? If so, tell us about that.
Outside of the personal benefits of running is there a cause you are trying to spread awareness for through running?
Whats next for you? What are your training for?
Do you have any sponsorship  agreements with athletic brands?
If you are selected, are you comfortable taking a Covid test 48 hours prior to shooting?
Are you an actor, actress or model? Have you ever appeared in any film, Tv or advertising? If so, please tell us about it.
Looking forward to hearing from you!
-Kathy, Joe, Mary Anne, Evadne & Team VE
Vitamin Enriched
347 454 9597
Photo by  Jefferson Sees on Unsplash