August 26, 2021 • Real People Casting
Looking for locals in Pittsburgh who love Applebee's for a National TV commercial
Vitamin Enriched, a real people casting company, is looking for locals in the Pittsburgh area who regularly visit their local Applebee's. We're casting a really fun commercial and want to hear your Applebee's experiences! Do you go to Applebee's with your coworkers or to grab some food with your team? Are you a family or a business owner in the area who stops by the restaurant often? Do you and your friends go to Applebee's for dinner or late night meetups? Whatever your reason for being a "regular," we'd love to hear more about your experiences!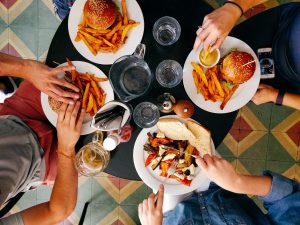 To submit yourself for consideration, email us the following details ASAP to info@vitaminenrichedfilms.com:
Your name
Phone number and email
2-4 photos of yourself (and team or group or family, etc who goes to Applebee's with you)
City & State
Tell us a little about yourself (occupation, family, hobbies)
Why do you consider yourself a "regular"? (Who do you go with, why do you go there? Etc.)
What do you like most about Applebees? What's your favorite menu item?
Which location do you go to, and what do you like most about it?
Shoot Date/ Details if selected:
AUDITION DATES: Week of Sept. 6th via zoom
CALLBACK DATE: Possibly September 14th via zoom
FITTING:  Possibly September 30th via zoom
SHOOT DATES: October 2nd, 3rd, 4th, 5th, 6th (approximately 2 shoot days)
SHOOT LOCATION: Around  the Pittsburgh, PA area
If selected for the shoot, each person who is booked as a principal would be paid SAG (the television union) scale wages for the commercial, which is a little over $700 per shoot day, with the possibility of additional compensation $$$. 
Thanks,
– Kathy, Joe, Mary Anne, Evadne, Nicole, Javier and Team VE
Photo by Nelson Ndongala on Unsplash